Effective support
on hot summer days.
Energy Mist is a simple, cost-effective method of improving the performance of air-cooled refrigeration and air-conditioning systems under peak ambient conditions when cooling capacity is often inadequate and energy usage is high.
Reduced maintenance costs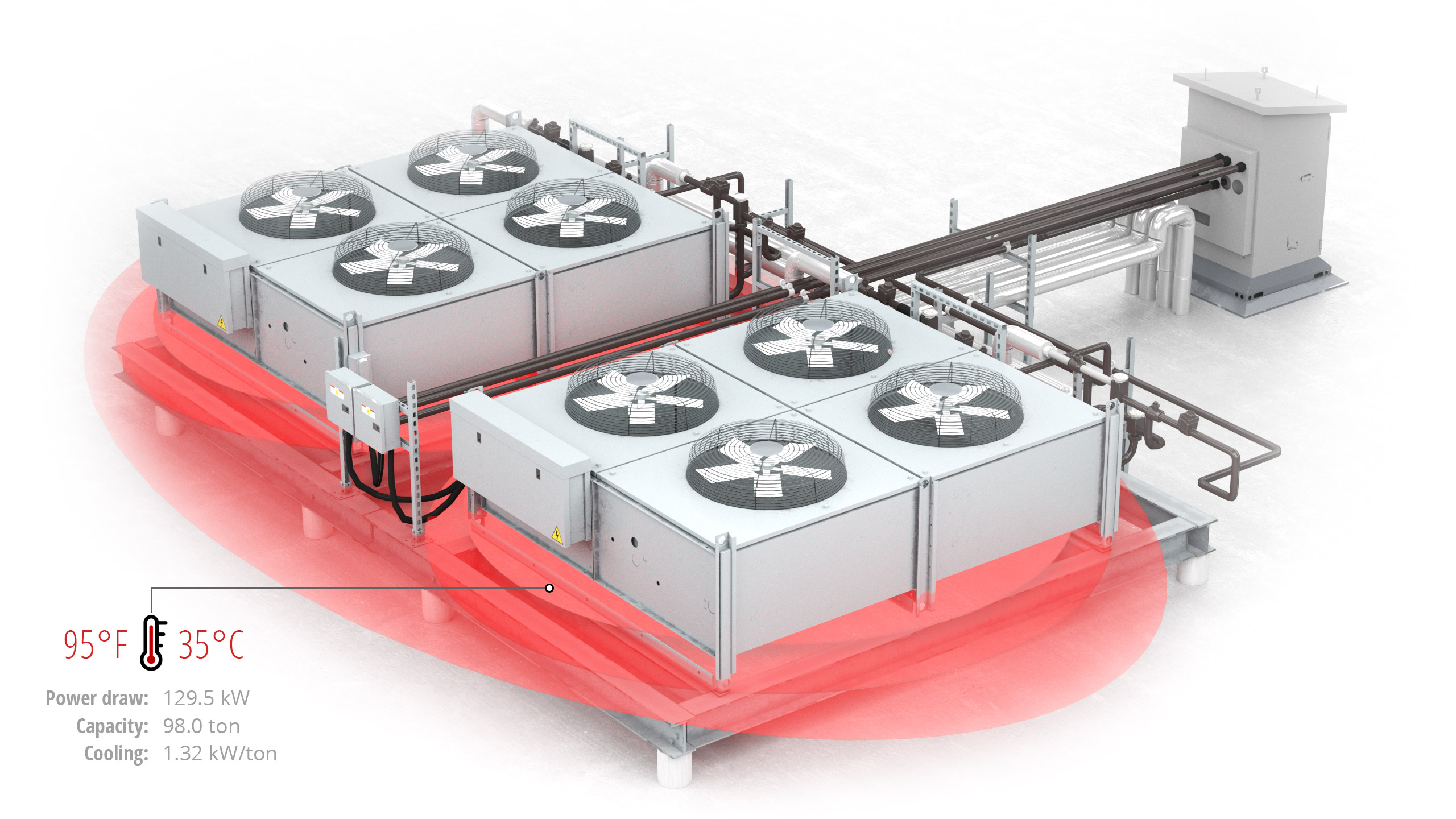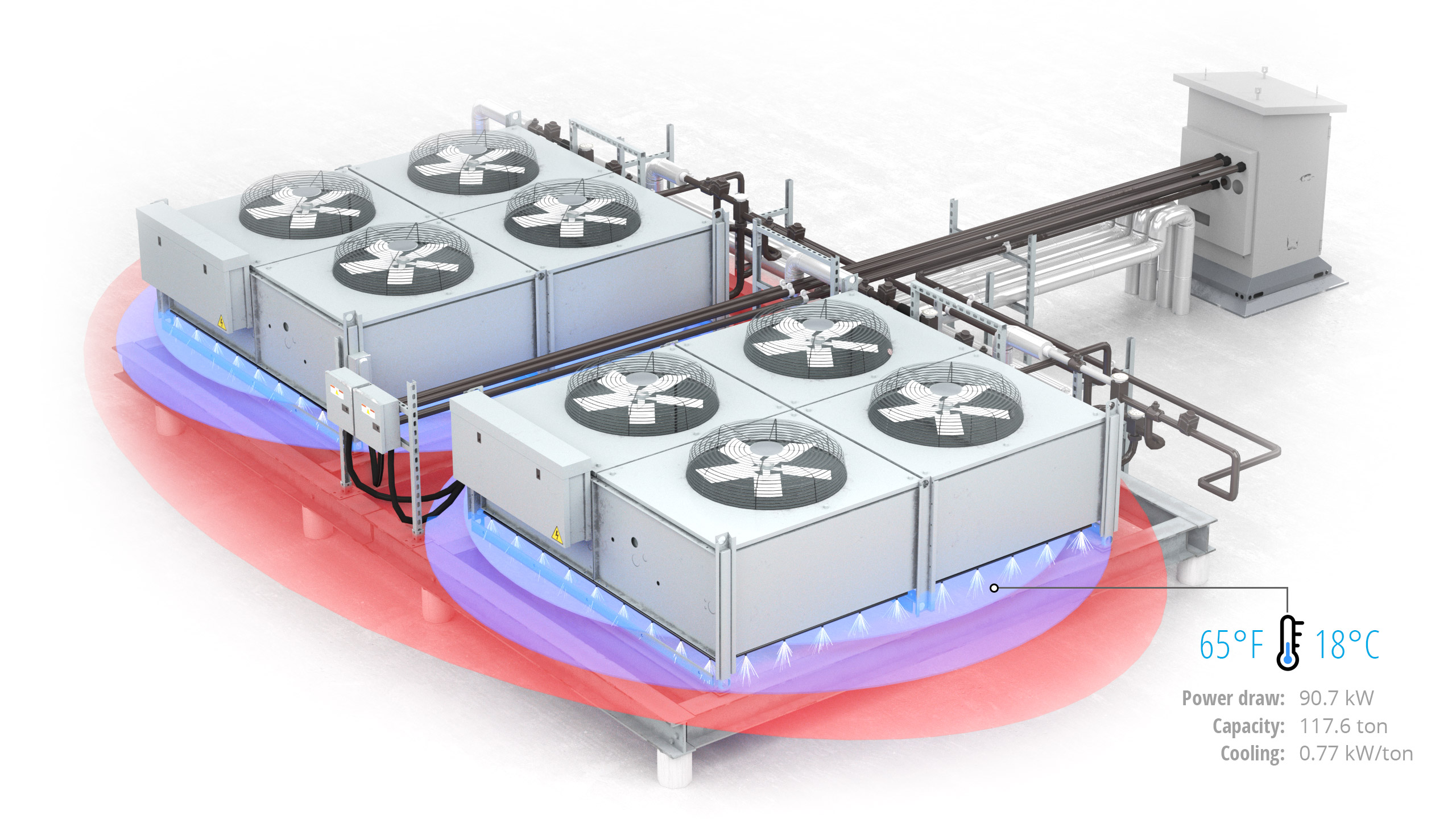 Condenser Performance on Hot Summer Days
Air-cooled refrigeration and air-conditioning systems perform at their very worst at the exact time when they are most needed. On hot summer days, the same system that produces 95 tons of cooling when the ambient temperature is 85F°/29°C, produces just 82 tons at 115°F/46°C. That equates to a 14% reduction in capacity. Over this same temperature range, the power draw increases by 31%!
As ambient temperatures rise, air-cooled systems find it increasingly difficult to reject heat. As a result, cooling capacity falls, systems must run longer to reject the same amount of heat, and compressors draw considerably more power when they run. This combination of increased run time, increased power draw, and reduced cooling capacity translates to lower efficiencies under peak ambient conditions.
Typical air conditioning system performance at high ambient temperatures
Energy Mist System
Energy Mist is a cost-effective way to improve the performance of air-cooled air conditioning and refrigeration systems. It accomplishes this by directing a fine water mist into the incoming condenser air stream. That lowers the temperature of the condenser air, thereby increasing cooling capacity and decreasing electrical demand.
As the mist is absorbed into the condenser air, its temperature is reduced by 20-30°F/11-16°C. This allows the condenser to reject more heat thereby reducing the head pressure and the saturated liquid temperature. This increases cooling capacity by up to 20% while lowering energy usage. At the same time, the reduced head pressure leads to extended compressor life.
Energy Mist vs. Garden Sprinklers
Historically, technicians have resorted to placing water sprinklers under condensers to increase cooling capacity. While this does indeed work at some level, uncontrolled water flow can cause water and sewerage costs to rise and result in roof leaks.
increase sewage and water bills
To improve on this practice, we have developed Green Energy Mist — a cost-effective method of improving the performance of air-cooled air conditioning and refrigeration systems without the negative effects associated with sprinkling water on condensers.
Geographical Variations in Performance
The benefits to be derived from evaporative misting are dependent on the ability of the mist to reduce the temperature of the condenser air. As a general rule, the higher the ambient temperature and lower the relative humidity the greater the improvement in efficiency.
This is demonstrated in the table below, which details the peak demand (kW) savings to be achieved in various cities across the United States when an evaporative misting system is applied to a 100-ton air conditioning unit. The greater the differential between the dry bulb (DB) and wet bulb (WB) temperatures, the greater the savings potential.
| | | | | | | |
| --- | --- | --- | --- | --- | --- | --- |
| City | State | Peak DB Temp | Peak WB Temp | Diffe- rential | Peak Demand Savings | % Demand Savings |
| Albuquerque | NM | 97.5 | 61.5 | 36 | 29.8 | 29.3% |
| Atlanta | GA | 97.5 | 76.3 | 21.2 | 17.0 | 16.7% |
| Boston | MA | 97.5 | 61.5 | 36.0 | 28.0 | 31.1% |
| Chicago, IL | IL | 97.5 | 61.5 | 36.0 | 29.8 | 29.3% |
| Dallas | TX | 102.5 | 74.6 | 27.9 | 23.8 | 22.4% |
| Denver | CO | 92.5 | 57.7 | 34.8 | 28.7 | 28.3% |
| Fresno | CA | 107.5 | 72.1 | 35.4 | 32.3 | 28.9% |
| Hartford | CT | 102.5 | 81.0 | 21.5 | 19.2 | 18.1% |
| Houston | TX | 97.5 | 77.8 | 19.7 | 15.7 | 15.4% |
| Las Vegas | NV | 112.5 | 65.6 | 46.9 | 45.0 | 38.7% |
| Los Angeles | CA | 97.5 | 61.5 | 36.0 | 26.5 | 29.3% |
| Miami | FL | 92.5 | 77.8 | 14.7 | 11.0 | 11.1% |
| New York | NY | 97.5 | 76.1 | 21.4 | 17.1 | 16.9% |
| Philadelphia | PA | 97.5 | 69.9 | 27.6 | 22.5 | 22.1% |
| Phoenix | AZ | 117.5 | 71.0 | 46.5 | 42.1 | 38.3% |
| Sacramento | CA | 102.5 | 69.7 | 32.8 | 28.4 | 26.6% |
| Salt Lake City | UT | 102.5 | 63 | 39.5 | 32.8 | 32.2% |
| San Diego | CA | 87.5 | 61.9 | 25.6 | 20.8 | 20.4% |
| San Francisco | CA | 97.5 | 61.5 | 36.0 | 29.8 | 29.3% |
| Seattle | WA | 97.5 | 67.3 | 30.2 | 26.2 | 25.8% |
| St Louis | MO | 102.5 | 79.1 | 23.4 | 19.8 | 18.6% |